LOCH NESS FAMILY
A Handy Mystical Kitchen Experience
Add a fly of humour and delight to each home by giving your friends and family these perky yet work treats with a quirky and unexpected twist functionality beats your traditional cooking utensils!
3 PIECE GIFT SET
100% BPA FREE
DISHWASHER SAFE
ALWAYS ON STAND BY
CUTE WACKY KITCHEN TOOLS
ADD FUN-CTION TO YOUR KITCHEN
VIEW MORE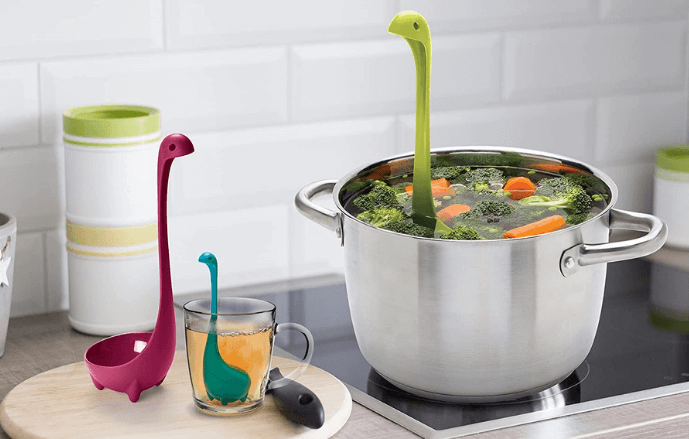 FEATURED
Our Best Selling
We have the Cutest Kitchen Functional Ladles and it comes with a set!
Snag these Loch Ness Family to add to your kitchen collection.

They are FUN-tional kitchen gadget items & definitely add personality to your kitchen set.
These funny and cute mystical creatures are everyday essentials you never know you needed. Rated the best for its functional design, and have the magic of their own.
Our Best Selling Bundle Set of The Loch Ness Family, Bebe tea infuser, Mama soup ladle, and Papa strainer all in one set. 
3 PIECE GIFT SET: We wanted to give you the gift of giving. We offer this 3 pieces set Bundle of joy holiday set. This includes The Mama Ladle, Papa Strainer, and Bebe Tea Infuser to provide you with the ultimate holiday experience! Have a fun and exciting cooking experience with your favorite dishes this holiday! 

COOLEST KITCHEN TOOL MUST HAVE: These Adorable Loch Ness Family are here to stay. This cute functional design makes the best kitchen gadget tool you will ever have. Every kitchen prep will be a breeze and a fun experience. Enjoy Scooping, Straining veggies, soup, and pasta with these handy tool kitchen gadgets, and The Bebe Tea infuser to make you smile while sipping your tea. 

BPA FREE: Loch Ness Ladles are 100% Food safe and BPA Free. It will never bend or melt as it is resistant to boiling water.

DISHWASHER SAFE: Loch Ness Family is dishwasher safe and can be easily cleaned by hand. The ergonomic and expertly designed features mean easy kitchen clean-up and hassle-free cooking.

LIFETIME WARRANTY: Loch Ness Ladles only uses the finest food-safe, BPA-free plastic to produce our premium loch ness ladle. If you aren't satisfied simply contact us, we promise to satisfy every customer.

THE PRODUCTS
Awesome Features

HEAT RESISTANT
Never worry about melting ladles. 100% BPA free.

FUN-CTIONAL DESIGN
Makes every cooking fun and productive.

KITCHEN BUDDY
Your cute kitchen buddy will be the life of the party.

DISHWASHER SAFE
Easy kitchen clean-up and hassle-free cooking.
WHY BUY WITH US?
Top Notch Services
WHAT MAKES OUR PRODUCT UNIQUE?
Base On Our Customer Reviews
THE COOLEST KITCHEN MUST HAVE
THE LOCH NESS LADLES
Loch Ness Bebe Tea Infuser (2-pack)

Regular price

$49.95

Sale price

$19.95

Unit price

per

Our Loch Ness Bebe Tea Diffuser is sure to make you smile while enjoying your par-tea at your home! May it be hosting any occasion or just a casual afternoon tea, this functional cute baby Dinosaur...
GET TO KNOW OUR LOCH NESS LADLE FAMILY
The Loch Ness Monster is an adored tale that has spread wonder since 584 A.D. Now you have the chance to bring the magic of the Loch to your kitchen!
Our set includes one green Daddy Loch Ness Ladle Colander, one purple Mommy Loch Ness Spoon, and one blue Baby Loch Ness Tea Infuser. We designed our cute dinosaur shaped head with dino feet base to provide your loch ness ladle with the foundation needed to keep its head above water for the signature Loch Ness "pose".
Imagine as you watch your friends try to catch a glimpse of the mysterious family of creatures the next time they visit your kitchen! A bundle of fun right in your kitchen.
VIEW MORE